Fieldays Innovations Awards winners

15 Jun, 2017 6:49pm 3 minutes to read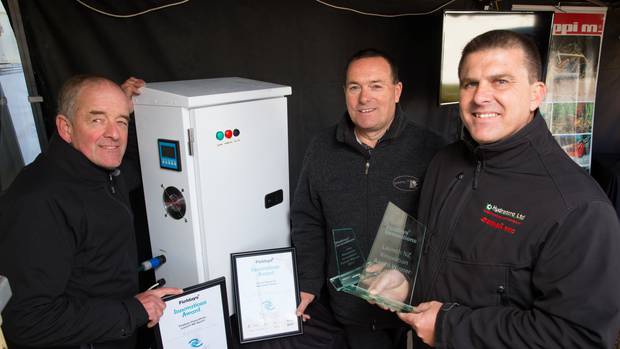 Hydratorq walked away with the Launch NZ Innovation Award and the Locus Research Innovation Award in the 2017 Fieldays Innovation Awards. Photo/Stephen Barker/Barker Photography.
The Country
The 2017 Innovation Awards were announced this morning at Fieldays.
New Zealand National Fieldays Society president Peter Carr said the awards are recognised globally as a launch pad for some of New Zealand's leading innovations.
"Innovation is key to the future growth of the agricultural industry and these awards are a platform for all promising inventors to take their ideas to the next level" said Carr.

Photo: Stephen Barker/Barker Photography
The 2017 Innovation Award winners are:
ADVERTISEMENT
· Fieldays Grassroots Prototype Award goes to: My Apiary for MyApiary HiveMonitor. The novel Bee Management System allows bees to be well fed through winter while saving bee keepers time, travel and money.
· Fieldays Established Prototype Award goes to: Taege Engineering with Power Discs. Rotating discs result in superior tilling of ground prior to drilling or planting, saving time and effort when the ground is unsuitable for traditional discing.
· Fieldays Innovation Launch NZ Highly Commended Award goes to: StockX for Prime Stock Platform. Judges felt StockX have done an amazing job, with the capacity to change the industry whilst achieving a high level of collaboration. The innovation offers a level of independence and transparency to the industry with the judges feeling that this innovation could be ground breaking.
· Fieldays Innovations Launch NZ Award goes to: Hydratorq with BioFume Ozone. Judges said this innovation has applications across multiple agricultural sectors. The company has taken some older technology and integrated it into a system that has shown some early promise of delivery of significant benefit to the industry. Their delivery mechanism allows ozone utilisation in different agricultural areas including cleaning, bacterial management and bleaching. This minimises the use of chemicals and reduces costs. Judges were confident applications across dairy, viticulture and horticulture will likely see benefits from this innovation.Sponsored award winners:· Vodafone Innovation Technology Award: MyApiary with HiveMonitor· Locus Research Innovation Award: Hydratorq with BioFume· Origin Innovation IP Award: Spectrum Innovations with the M6 13 Auto Sawmill· Tompkins Wake IP and Commercialisation Award: MyApiary with HiveMonitor· Callaghan Innovation Partnership & Collaboration Award: MyApiary with HiveMonitor
General Manager Commercial, for New Zealand National Fieldays Society, Nick Dromgool said he was pleased with the high visitor numbers across the first two days of the event."We've had a great two days and the vibe from the crowd is really positive, we've even broken our record for a Thursday with 33,528 visitors through the gate, that's 1268 up on 2016 and 3350 up on our six yearly average" said Dromgool.
Traditionally Fieldays attracts the largest numbers of visitors on Friday and with two big days already, organisers said they were looking forward to seeing what tomorrow will bring.
Full article on New Zealand Herald Website